Welcome to Covel's Tree Farm & Nursery
The Wreath Shop.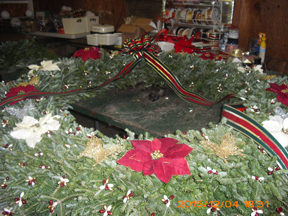 We can produce floral wreaths up to 8 foot in diameter and offer hundreds of combinations of ribbon and decorations, and multiple different shapes. We make Square, Round, Heart shaped, Star shaped, Cross shaped and Candy cane wreaths. Come watch a wreath being made while you wait for your Christmas tree to be wrapped and loaded.
Our wreaths are made out of Fresh cut fraser boughs to ensure they last through the holiday season, and our wreaths are floral rather than flat wreaths. Floral wreaths are thick, full and luxurious.
Please order ahead for a large (8') wreath as they take some time to produce.
Call one of our Designers to place your order and get pricing for your Custom or standard wreath.
We will gladly ship wreaths to your home or business anywhere in the Eastern seaboard of the U.S. for an additional shipping and packaging fee. (Shipping rate varies depending on the shipping company selected. To preserve the quality and freshness of our Floral Wreaths, we only ship overnight or Two-Day.)
We can ship round wreaths up to 24" and Kissing balls. Enquire for shipping limitations on other products.
| | | |
| --- | --- | --- |
| | | |
| Christmas Trees are special. Each tree is a unique expression of nature. we are sure you will find the perfect tree to fit your style and desire. | Covel's Tree Farm & Nursery has a variety of conifer species to fit your landscaping needs. Fraser Fir, Balsom, White Pine, Norway Spruce. click here to view information about landscaping trees. | Our wreath shop produces the perfect wreath to fit your decorating style and needs. We carry a wide selection of ribbon, decorations and sizes. With your input, we can make just what you need to finish your holiday decorations. |